Last year, I happen to watch about 6 episodes of the HBO series, Boardwalk Empire. I was amazed at the story telling and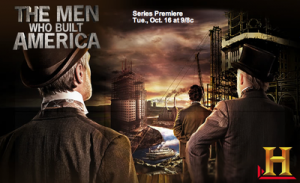 visual style of some criminal elements during the prohibition.
Some day I like to start watching it again just watching what history could have been like come to real life is great thing thing to experience.
However, this week history did come to life on the history channel.
An amazing new series just started, called "The Men Who Built America."
It is the story of John D. Rockefeller, Cornelius Vanderbilt, Andrew Carnegie, Henry Ford and J.P. Morgan rose from obscurity and in the process built modern America.
You talk about an amazing show not only for entrepreneurs but for every American. In fact, it show be required watching in history class throughout the US.
Last night I got to watch the first hour about how the "Commodore" Cornelius Vanderbilt and how he single handly built the the railroad empire and to hear commentary from the likes of Marc Cuban, Alan Greenspan and other recent business minds is fascinating.
This is television at its best!
Congratulations history channel for amazing show so far!
Below is the trailer for the show!