"Three Local Yucaipa Students Survives The Hardest 10 Days in their life – The Marine Corp. Devil Pup Program!"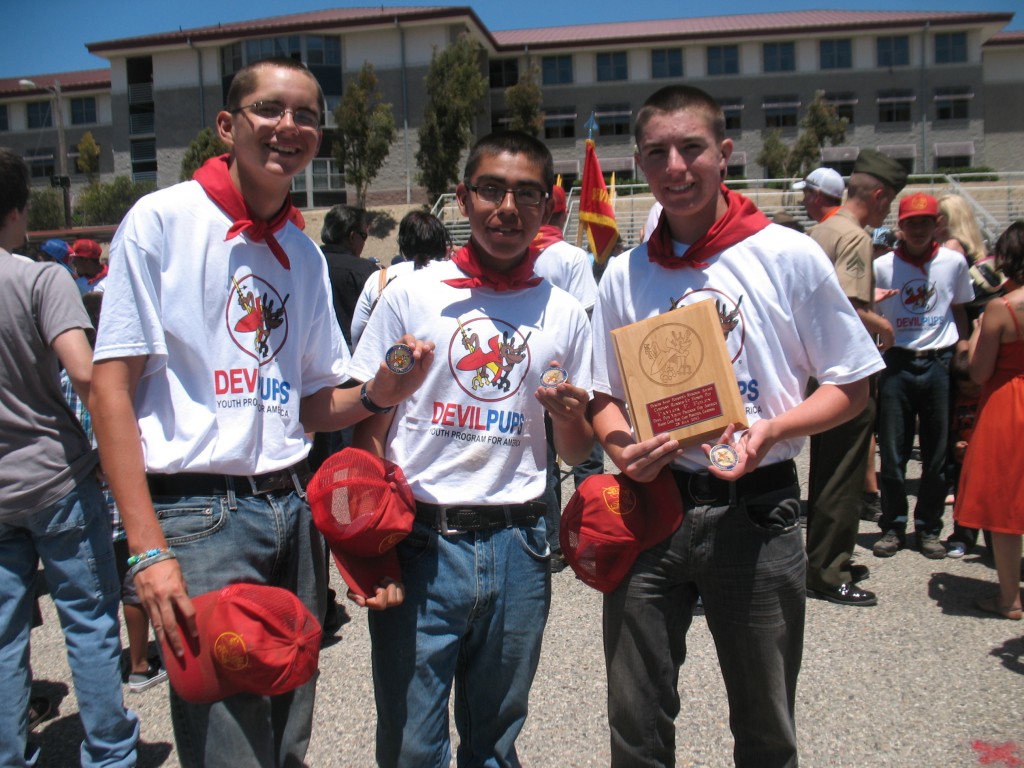 On July 28, 2012, at Marine Corp Base Camp Pendleton, California. Redlands Troop 11 Boys Scouts, Andrew Samaniego, Taylor Foley, and Antonio Ruiz, marched with just over 260 young men and women of this years "Devil Pup" graduates. This was the year that over 50,000 boys and girls between the ages of 14 and 17 years old have completed this program since 1953, when the program first started.
Devil Pups is an non-profit organization designed to help boys and girls from all backgrounds gain self-confidence and learn to take responsibility for their actions.
Activities during the 10 day program includes conditioning exercises, beach runs, jumping off of a 25' foot tower into a pool, first aid instruction, leadership classes, a bivouac (camping out), swimming and ends with climbing up "Old Smokey".
Also, the Pups attend educational lectures on the importance of self-confidence, teamwork, drug and alcohol abuse and the importance of goals in life.
Samaniego, Taylor, and Ruiz, tried out for one of the coveted 600 spots that are awarded each year. Selection is based on a physical fitness test of pushups, sit ups, pull ups and a 1 mile run. Only the top scores get a spot.
Andrew Samaniego, Junior at Yucaipa High School, tried out the last two years and finally qualified to go into this years Devil Pup Class. 
Andrew said, "In the last 10 days I got up every morning at 3:30am, jumped off a 25 and 15 foot tower into a pool, ran 5 1/2 miles on the beach, got yelled at by Marines, climbed  a hill called "Old Smokey" a Marine tradition, met a San Diego Charger, Los Angeles Angel, went on the USS MidWay, visited two museums and then graduated in front of Marine General on my 16th Birthday. What did you do this summer?"
Andrew, Taylor and Antonio are also on the Yucaipa High School, Air Force ROTC program, all three of them just graduated from Air Force Junior ROTC Leadership School just over a month ago at March Air Force Base. They are also Senior Scouts with Boy Scouts Troop 11 in Redlands, California.