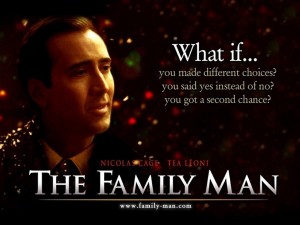 Here we are in the middle of holiday season and on television every holiday movie that has come out is being played classics such as Charlie Brown Christmas, Frost The Snow Man, It's Wonderful Life, The Nightmare Before Christmas, The Preachers Wife, Polar Express, and the list goes on and on.
I think on our DVR has everyone of these movies recorded. But there is one movie that has hit home with me personally.
This movie for me, reminds me what my life is all about: "The Family Man" with Nicholas Cage it came out in 2000.
It's great movie for all you husbands and fathers to watch, It's about a man who thought he had everything and faith gives him a glimpse what he life could have been.
The trailer is below and highly suggest over the next couple weeks pick up this movie and enjoy.